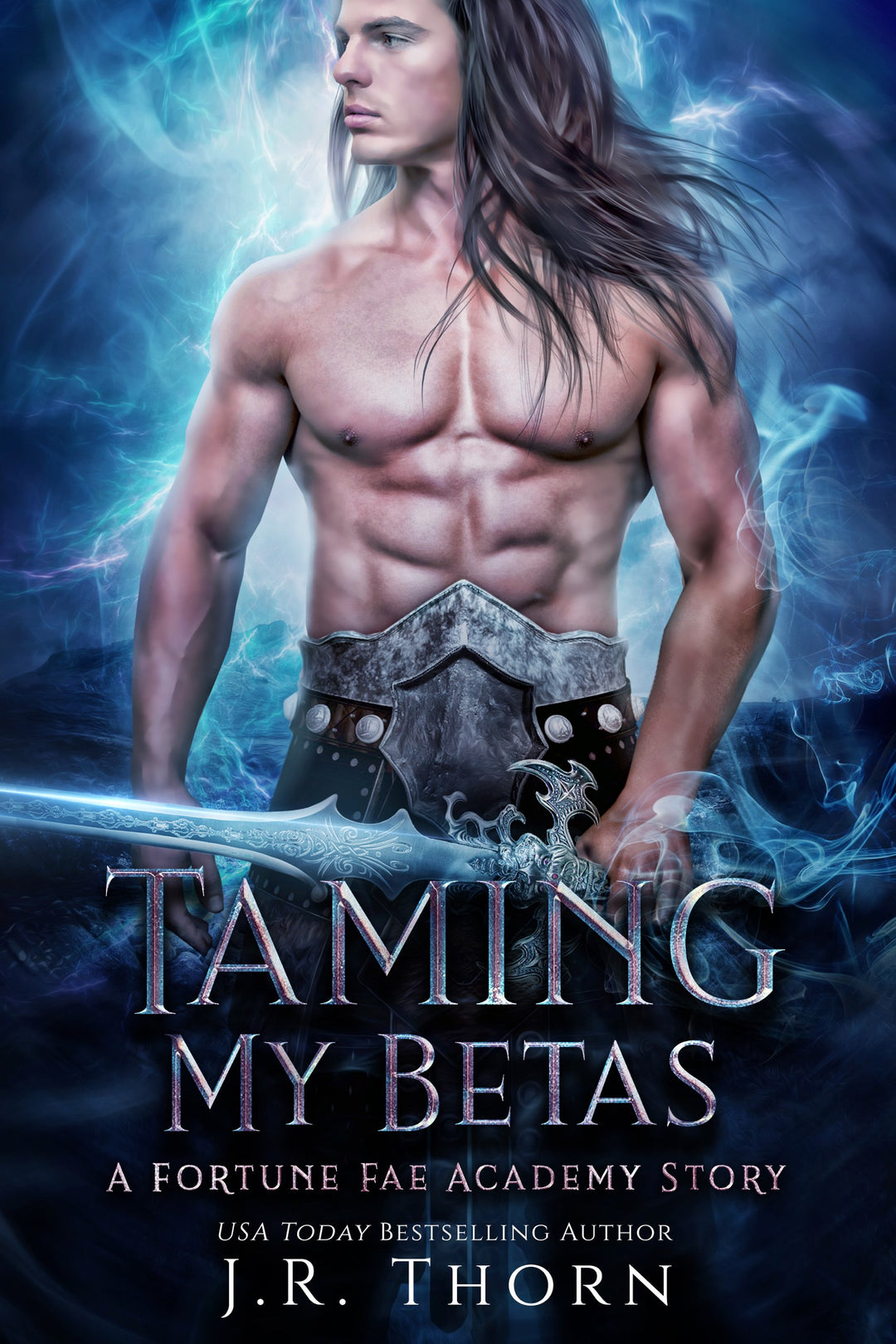 Taming My Betas (eBook)
---
In stock, ready to ship

Inventory on the way
Receive Download Link via Email
Send to Any E-Reader Device & Enjoy!
Taming my Betas is an exclusive M/M erotic episode from characters in the Fortune Fae Academy Series. These scenes were too dark to put on Amazon so proceed with caution...
~ ~ ~ 
This was the stupidest idea we've ever had.
I had expected our Alpha to drag us to his den, but Axel appeared instead, smirking with a cruel grin and a wild spark in his deep blue eyes.
He used Tunneling to bring us directly to Seifiek and my nostrils flared the moment we entered the Academy. The scent of our Alpha permeated the air, sage and leather, and made my body ache to kneel at his feet. Even the room looked like an improved replica of our apartment in Manhattan where we'd last seen Gina. The bastard was definitely obsessed.
Luckily, Zeke had given us a crutch, something that I could hold onto when my primal instincts screamed at me to submit.
We both wore a single silver earring, one infused with Dust that had been salvaged from a strand of time that connected us to our Omega. Of course, all our Alpha would have to do would be to take them off to earn our compliance, but Fortune Fae often wore jewelry and he didn't even seem to notice the artifacts that gave us the will to resist.
He leaned his elbows on his knees as he perched on the edge of his throne. He raised a silver eyebrow at us and I shivered under the intensity of his gaze. He reminded me of a predator as he bared his tusks at us, massive enough to rip our throats out if we proved ourselves more trouble than we were worth.
Our plan hinged on Zeke's certainty that Seifiek would not kill us for our Omega's sake. He seemed so fixated on her to the point of obsession. She loved us, and if he even had a small brain, he'd know that killing us would make him lose her forever.
"Welcome to your new home," he said with a hideous smile that only showed more of his sharp teeth. "Do tell me, what compelled you to give yourselves up?"
Zeke answered before I could. "We haven't given up anything," he said proudly as he straightened, even though he was still on his knees where Axel had shoved him. "We're here to tell you that our Omega is off-limits. You can do what you want with us, but we have her strength inside of us and we'll resist you just like she does. Once you see why your efforts are futile, we request that you will take another Omega."
Seifiek growled and the sound rumbled straight through the floor, jolting up my spine with warning. "That was the wrong thing to say."
He leaned back as his sliced pupils dilated. "Axel, I think this is the opportunity you've been waiting for. These Betas have not proven themselves worthy to be in my presence. Do as you wish with them and when they have broken, bring them back to me." He waved a hand with dismissal and my stomach dropped.
Axel grinned, the madness in his eyes even wilder than before. "As you wish, my Alpha."
eBook Delivery: eBooks will be delivered to the email you provide from Bookfunnel with easy instructions on how to upload to the device of your choice. If you have any concerns, please contact us.

Physical Product Delivery: You will be mailed your product within 7-14 business days pending inventory.

Audiobooks: Audiobooks will be delivered similarly to eBooks through Bookfunnel's fulfillment serivce. Bookfunnel has created an audiobook app very similar to the one you're used to using on your favorite device! Your email will include instructions on how to download the Bookfunnel app for your listening enjoyment. And the best part is YOU own the audiobook when you buy direct!